Posts for tag: gum recession
By Myers Family Dental
October 15, 2019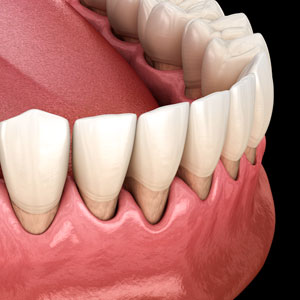 Calling someone "long in the tooth" is an unflattering way of saying they're getting old. The phrase refers to the effects of gum recession, in which the gums pull away from the teeth and cause them to appear longer. The problem, which makes the teeth vulnerable to disease as well as look unattractive, is a common problem for older people.
The most common cause for gum recession is periodontal (gum) disease. Bacteria and food particles, which make up dental plaque, trigger an infection. The deposits of plaque and calculus (hardened plaque) continue to fuel the infection as it continues to weaken gum tissue attachments.
As a result, the gums begin to lose their attachment to the teeth and pull away, exposing the root areas normally covered by the gums. Unlike the enamel-protected crowns (the parts of teeth you can see), the root is covered by a thin layer of material called cementum.
Although cementum offers less protection than enamel, this normally isn't a problem because the gums also act as a barrier against bacteria and other harsh aspects of the mouth environment. But without gum coverage, the root area becomes vulnerable to disease and is more prone to painful sensitivity.
Because gum disease is the main culprit, you can reduce your chances of gum recession by keeping your teeth clean of plaque through brushing and flossing, and regularly undergoing professional cleanings. If gum disease does occur, it's important to seek treatment as soon as possible: The earlier it's treated the more likely that any recessed gum tissues can regenerate.
If the recession is extensive, however, you may need clinical intervention to assist with its regrowth. This can be done by grafting tissue at the site that then serves as scaffold for new tissue to grow upon. Though effective, these microsurgical techniques are quite complex and involved.
So, if you suspect you have gum disease or recession, see your dentist as soon as possible for a full examination. It may be possible to restore your gums and enhance your smile.
If you would like more information on protecting your gum health, please contact us or schedule an appointment for a consultation. You can also learn more about this topic by reading the Dear Doctor magazine article "Gum Recession."
By Myers Family Dental
July 22, 2018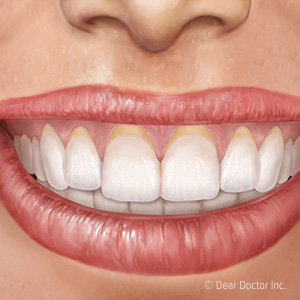 While gum recession is a common occurrence related to aging, it's not just an "old person's disease." It can happen to anyone, even someone with a relatively healthy mouth. And this detachment and shrinking back of the gums from the teeth may not be a minor problem—your dental health is definitely at risk.
Here then are 4 things you should know about gum recession, and what you can do about it.
The most common cause: periodontal (gum) disease. A bacterial infection triggered by built-up dental plaque, gum disease weakens the gums' attachment to teeth that leads to recession. To help prevent it, clean away plaque with daily brushing and flossing and visit a dentist regularly for more thorough plaque removal. If you already have gum disease, prompt treatment could stop the infection and reduce any resulting damage including recession.
…But not the only one. There are other factors that contribute to recession besides disease. In fact, it could be the result of "too much of a good thing"—brushing too hard and too frequently can damage the gums and lead to recession. You might also be more susceptible to recession if you've inherited thin gum tissues from your parents. Thin gums are at increased risk of recession from both disease and over-aggressive hygiene.
Best outcomes result from treating gum disease and/or recession early. The earlier we detect and treat a gum problem, the better the outcome. See your dentist as soon as possible if you see abnormalities like swollen or bleeding gums or teeth that appear larger than before. Depending on your condition there are a number of treatment options like plaque removal or techniques to protect exposed teeth and improve appearance.
Grafting surgery could regenerate lost gum tissue. While with mild cases of gum recession the gums may respond well to treatment and actually rejuvenate on their own, that might not be possible with advanced recession. We may, however, still be able to restore lost tissue through grafting. Using one of a number of techniques, a graft of donor tissue can foster new replacement growth. It's a meticulous micro-surgical approach, but it could be a viable answer to extreme gum recession.
If you would like more information on gum recession, please contact us or schedule an appointment for a consultation. You can also learn more about this topic by reading the Dear Doctor magazine article "Gum Recession."
By Myers Family Dental
May 22, 2018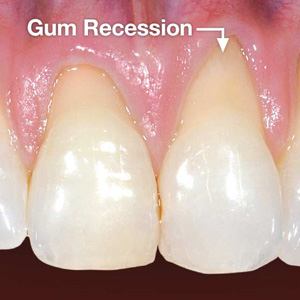 Your gums aren't just for show—they also play an important role in supporting and protecting your teeth. Healthy gums are essential for healthy teeth.
Your gums can take a lot from daily chewing or other environmental factors. Unfortunately, disease or trauma can weaken their resilience. This weakening could lead to gum recession.
Gum recession occurs when the tissues covering a tooth begin to lose their attachment and shrink back (recede). As a result, the tooth appears "longer" as more of it that's normally below the gum line becomes visible. Not only is gum recession unattractive, it also exposes more of the tooth to disease-causing bacteria.
The most common cause for gum recession is periodontal (gum) disease, an infection arising from the accumulation of a thin bacterial biofilm on the teeth called plaque. Infected gums become inflamed, a normal defensive response to isolate diseased or damaged tissues from the rest of the body. Chronic inflammation, however, weakens affected tissues over time and results in bone loss.
Other factors can also contribute to gum recession. A tooth that didn't erupt properly and has come in away from the center of its protective bony housing can impede adequate gum coverage. Your gum tissue thickness, which you genetically inherit, can also increase the risk of gum recession. People with thinner gum tissues are more susceptible to recession than with thicker tissues.
You can also damage your gums (ironically) while trying to care for them. Over-aggressive brushing over time may traumatize the gums to the point that they recede. While it's essential in removing disease-causing dental plaque, brushing only requires a gentle scrubbing action covering all portions of tooth surfaces. The brush bristles and mild abrasives in the toothpaste do most of the work of plaque removal.
To minimize the chances of gum recession, you should practice proper oral hygiene and visit your dentist regularly for professional cleanings and checkups. And you might also consider orthodontics for improperly positioned teeth that could not only improve your smile, but also your gum health.
And by all means see your dentist if you notice any signs of gum infection like swollen, reddened or bleeding gums. The sooner you begin gum disease treatment, the less likely your gums will recede in the future.
If you would like more information on recognizing and treating gum recession, please contact us or schedule an appointment for a consultation. You can also learn more about this topic by reading the Dear Doctor magazine article "Gum Recession: Getting Long in the Tooth."