Posts for: March, 2018
By Myers Family Dental
March 28, 2018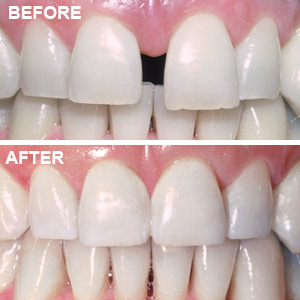 Orthodontists are able to achieve attractive results with traditional braces moving several teeth into a better position. In a way, braces are the original "smile makeover."
But orthodontic treatment can also be useful if only a few teeth (like the two upper front teeth) need to be moved slightly. A treatment known as minor tooth movement takes only a few months as opposed to years for traditional multiple teeth movement, and with removable appliances that may use small springs or elastics to place gentle pressure on teeth to move them.
So, what constitutes a minor tooth movement scenario? As with any dental condition, the first step is a complete dental examination, particularly the bite. We also need to determine if enough room exists to close any space without compromising the bite with the opposing teeth, and if the teeth and their roots are in a good position to allow minor movement — otherwise, more extensive treatment may be called for. The surrounding gum tissues and bone also need to be healthy and disease-free, especially in adults.
We may also need to look more closely at the actual cause for a front tooth gap. If the gap is the result of the tongue habitually pressing against the back of the teeth and pushing them forward, it may then be difficult or impossible to close the gap with minor tooth movement techniques. The cause may also originate from the frenum (a thin, muscular tissue that rises up from between the upper front teeth toward the lip) if it has extended too far between the teeth. In this case we may first need to surgically remove some of the frenum tissue before attempting orthodontics or the teeth may gradually move back apart after closing the gap.
Although minor tooth movement normally doesn't take as long as braces, it may still require several months. And just like with braces, you will need to wear a retainer for several months afterward until the bone stabilizes around the new position. Still, minor tooth movement could have a major impact on your smile.
If you would like more information on orthodontic treatments, please contact us or schedule an appointment for a consultation. You can also learn more about this topic by reading the Dear Doctor magazine article "Minor Tooth Movement."
By Myers Family Dental
March 13, 2018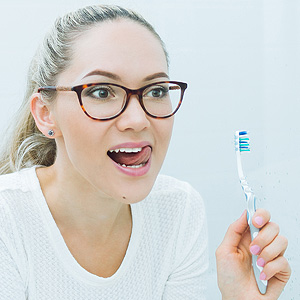 The arrival of spring often serves as inspiration to clean house and create an environment that's bright and fresh. Here at the dental office, we can do the same for your mouth as well! Having clean teeth, healthy gums and fresh breath helps you look and feel your best. Here are some ways we can help you freshen up your smile:
Dental Exam. The best place to start is with a dental exam. Finding and treating tooth decay in its earliest stages will help you avoid more costly and invasive dental treatments later on. It could even save a tooth that might otherwise be lost! Plus, oral cancer screenings are important for everyone—even young, non-smokers. Regular dental exams also give you a chance to bring up any issues you may be concerned about, and to ask for pointers on hygiene.
Professional Cleaning. Having a good oral hygiene routine at home goes a long way towards keeping your mouth healthy. But routine professional cleanings are still very important. Your dental hygienist uses specially designed tools to reach into places where your brush and floss can't, and remove disease-causing dental plaque and tartar. A polishing provides the finishing touch for a squeaky-clean feeling.
Teeth Whitening. Teeth tend to get duller with age; that's why teeth whitening treatments can give you a more youthful appearance. Bleaching your teeth is safest when supervised by a dental professional. We recommend two methods: either a professional treatment at the dental office, or a take-home kit we can provide, which includes custom-fitted bleaching trays. The first way will give you the fastest results, while the second is more economical.
Smile Makeover. Sometimes whitening alone is not enough to fix what's keeping you from flashing a big, bright smile. For example, maybe your teeth aren't straight, or they have been worn down over the years. Perhaps a tooth is chipped or is missing entirely. Or maybe there are multiple cosmetic issues. If this is the case, we can help you figure out what's really bothering you about your teeth and how you can achieve the smile of your dreams.
If you have questions about oral hygiene or cosmetic dentistry, please contact us or schedule a consultation. You can learn more by reading the Dear Doctor magazine article "Daily Oral Hygiene."